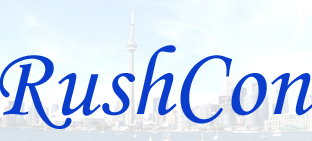 Welcome to my RushCon page! Here, I have my thoughts on RushCons past, as well as photos from some years.

RushCon: -1- -2- -3- -4- -5- -6- -7- -8- -9-
RushCon Photos: 2004 2005 2006 2007 2008
The weekend of May 18-20, 2001 was so special for me. My husband and I made the trek to the "Motherland"... TORONTO! RUSH hails from Toronto, you know. Why did we go? For RushCon 2001! Talk about feeling at one with a large group of people! The weekend was spectacular! Being able to spend time with other people who understand my obsession...it was awesome! There were people there from other countries...how about Japan and Argentina? How cool is that?!

There were two special guest speakers: Terry Brown and Donna Halper! Getting to meet Donna Halper, the lady that brought RUSH to the US...that was something I just couldn't describe. She is a fabulous lady, and I would love to go to Boston and hang with her...she is just wonderful! Terry was great, too. Just being in the same room with someone who produced 10 RUSH albums...wow... And, there were some tribute bands that played at the Opera House (a really cool night club)... One was Rosho - from Brazil! Let me tell ya, they kicked ass! The main band that played, though, was Merely Players. They rocked the house! They played ALL of 2112! It rocked!
All this, and a charity auction to boot. The items for the auction were donated by different organizations and people, and all were RUSH related. The best part was that all the proceeds, including those from the auction, were donated to the Daily Bread Food Bank in Toronto. RushCon 2001 raised over $4000 and RushCon 2002 raised over $6500! Gotta love it!
Of course, while in Toronto, we had to make the rounds to the Parliament building (see me sitting on the steps!), in Queens Park, where the Moving Pictures cover was shot...and, also to Lakeside Park in St. Catherine's (see me in front of the Lakeside Park sign!). *sigh* "Though it's just a memory, some memories last forever." - "Lakeside Park" - Neil Peart

---
RushCon 2 - Citizens of the World
We went back to Toronto again for RushCon 2002! RushCon 2002 was July 12-14... We had the BEST time! Along with getting to see friends from last year - Phred, Eddy, Jillian, Seiji (from Japan!), John and Kelly - we also met some new friends - JIM!, Brooks, Rob, Brian and Eddy (different Eddy...one is female, one male). The auction was excellent this year...especially since I got an autographed copy of Neil's first book, "The Masked Rider"! YES! ROCKS! I found out later that, Neil being Neil doesn't like to autograph things (this I knew), but he autographed this book especially for RushCon! *gulp!* I almost lost it!
The vendors there were cool, too...I bought TONS of stuff, including Neil's book, "Ghost Rider: Travels on the Healing Road". If you thought you knew Neil Peart...think again. I read this book, and have to say it really brought a new insight for me into Neil's mind. (Thank you, Carrie! Vapor Trails would not exist if not for you!) Lots of t-shirts and posters, too...

The band, 2112...blew me away! They had videos going on, and they ALL were outstanding! :D I would love to see them again, but they're in New York... Come to Dayton, guys!

The Walking Tour of Toronto was fabulous! We went to several Rush-related sites...not only did we get to visit Queen's Park (where the Moving Pictures album cover was shot), Maple Leaf Gardens, Massey Hall and The Canadian Walk Of Fame, but we also got to see lesser-known places like a couple studios where the Guys recorded some of their albums, The Orbit Room (Alex's awesome bar) and ANTHEM RECORDS! Phred arranged for us to be able to tour Anthem Records. It was just amazing! I have a picture of myself with the Juno Award the Guys won in 1974 for "Most Promising Group of the Year" and the Inukshuk they used for the Test For Echo CD. All in all an EXCELLENT EXCELLENT tour!
MUCH THANKS to Paul at thecanadianmusicscene.com - he was just AWESOME!

Paul, you rock!!! Thanks!

---
RushCon 3, Celebrate the Moment, July 18-20, 2003, was another fun year! Howard Ungerleider gave us insight about the guys...very entertaining! Derivative showed us Rush's computer graphics (especially for LTTA). Click the link and go see for yourself. You can download a player and get the video they play for Natural Science, and you can change it and just mess around with it in general. It is freakin' SWEET! Andrew MacNaughtan did an interview with Ged and Al where they answered questions submitted by RushCon people. That was awesome!! Those two are nutty! And, getting to see the Trailer Park Boys episode with Alex for the first time (and getting hooked on TPB because they are so damned funny!)... And, finally...the charity auction raised over $9400 for the Toronto Daily Bread Food Bank! All that, plus some awesome tribute bands on Saturday night...what a weekend! There were two trib bands this year. "Exit Stage Left" from Quebec did a great job! And, Toronto Airport rocked the place! We didn't do the walking tour that year; we headed up to Niagara Falls...love it up there!!

---
RushCon 4, Hearts & Minds United, August 20-22, 2004, was AWEEEESOMMMME!! (Ok, so...the weekend was capped off by a Rush concert! Can't beat that!) Visit my RC4 page for pictures... Started off with the normal In the Mood Mixer where we met up with our buddy from San Diego, Jim! (Hi, Jim! How's the 10-month program going? LOL!!) The Toga contest was entertaining. Hehe! The events Saturday were so cool! Got to meet the author of Contents Under Pressure, Martin Popoff! And, he autographed a copy of the book for us all! Sweet! He was such a down to earth guy, and it was a pleasure to meet him! Then, Chris Stankee from Sabian showed us Neil's new Paragon cymbals. They are SO cool; made of gold! Chris showed us a video of Neil touring the Sabian site...very awesome to see how they make the cymbals and test them and Neil giving input... Donna Halper returned for another enjoyable chat! Always nice to see Donna; she is awesome! The Charity Auction raised over $8500 for the Toronto Daily Bread Food Bank! Cool! Then it was off to the Opera House for the tribute bands... Toronto Airport ROCKED the joint! Those guys are SO awesome!! Then, Limelight took the stage and rocked the joint as well! So cool!!
The next day started early with the walking tour. We headed off to Queens Park to see the Parliament Building where the Moving Pictures cover was shot. Always a cool thing! Then we went to tour Anthem...always cool to see the gold records and awards and memorabilia... Sweet! After that, we took a double-decker bus around town; I think our bus driver was either unfamiliar with Rush related stuff or...well...lost. We kind of circled this one block 3 times. Oops! We went to the Canadian walk of fame to see Rush's star, and here and there... Then it was off to catch the boat for the Gangsters boat tour! We got there a little late and what do we see but the boat pulling away from the dock! After much yelling, they came back and got us. LOL! We went out on Lake Ontario; I got some KILLER shots of TO (see the RC4 page I linked above)... It was awesome! We docked at Molson Amphitheater for the concert... Tellyawhat, seeing the guys in Toronto, their home town...well, lets just say it was AMAZING! They were awesome!!

---
RushCon 5, Because We're Here, July 22-24, 2005, was another banner year! We have been to all RushCons! My RC5 pictures are here. The In The Mood mixer was a blast (as usual), and hanging out with Jim again was awesome! Seiji made the trip from Japan again (he has been to all RC's, also!)...it was great to see him there! That is a dedicated Rush fan!
The events Saturday were different than in previous years. The day started off with some fun videos and people milling about the vendor tables buying stuff. Later on, the games began! We had Rush related Name That Tune, Match Game and Family Feud games! Then some more mingling and such and we were on our own until the events at the Opera House. We had a great time at the Rush Karaoke; Seiji played the bass AND sang Red Barchetta! It was awesome!
The tribute band this year was Hemispheres, a band out of NJ. They sang for FOUR HOURS! It was a heckuva show! Way to go guys; impressive show! Especially Fountain...wow...
The charity auction was on Sunday morning this year. (Brutal! Stayed up way too late from the trib band show!) I was the winning bidder on the signed copy of "My Favorite Headache" and the autographed (by all 3 guys) Hold Your Fire tour book! Yay me! After the auction, we headed out for the Gangster of Boats tour. It was awesome, yet again! Then, we docked and headed over to the Orbit Room for a private party! That was a LOT of fun!
All in all, the weekend was incredibly fun and went by way too fast! At least we had a little reunion on Monday for breakfast with a bunch of RushCon friends over at Fran's (which, by the way, has some KILLER banana pancakes!). We sort of took over Fran's! LOL! The back part of the restaurant was all RushCon'ers. Hehe!

---
RushCon 6, (or, RushCon 2112) Strong as Life, July 14-16, 2006, was yet another exciting, fun weekend! This year, though, I was on staff! So I was rather busy! Whew! I was the Auction Coordinator and that kept me busy even BEFORE RushCon! It was wonderful to be a part of raising over $4100 for the Toronto Daily Bread Food Bank!
We had the tribute band concert at the Marquee; this was a really cool place! And, Toronto Airport kicked butt again! It was one awesome show! And on Sunday, we had a bus trip to Lakeside Park and then Niagara Falls! Two of my favorite places on earth! It was fun seeing some of the new RushCon'ers at Lakeside Park. A few of them were truly speechless... Later on, we capped the evening with a private party at the Orbit Room (that lasted WELL into the morning!)! It was SUCH a fun day!

---
RushCon 7, Feel the Current Flowing, September 21-23, 2007 was a whirlwind! We were lucky enough to see the guys in concert twice! (Some people even went to a third show in Ottawa!) Check this picture out!

It's from One Little Victory, right after the dragon blew fire and lit up the stage. Sweet! It was another wonderful RushCon! Thank you to all the great people who donated such excellent auction items! We raised more money for the Toronto Daily Bread Food Bank and everyone got some great Rush memorabilia! There were many new faces, and many familiar faces...and it always feels like a big family reunion when we are all together!
For my fellow travelers of Willowdale... Stevie, Fletch and Pete, I had the greatest day with you guys! Here is a shot of the River Dawn. Thanks for "fording" it with me, and for making the day so completely memorable!
The tribute band was Limelight! They put on a great show! And on Sunday, we went back to tour Anthem for the first time in a few years. It's always fun to visit Anthem and see all the Gold records and awards! And, I was able to take some time on Sunday to go shooting in Toronto. Spent some time down at Ontario Place and got some cool shots of the Inukshuk!

---
RushCon 8, We Hold On, July 8-10, 2008 was a bit different! We (the organizers of RushCon) had a difficult time coming up with dates for the convention this year due to the odd concert schedule for Rush. With a concert scheduled on Wednesday, July 9th at Molson Amphitheater, we decided to change things up a bit! We had RushCon during the week without a tribute band since we had the real deal!
It was three days of non-stop events! We started out with a great night of chickeny fun at the In The Mood Mixer! (Don't get the chicken reference? LOL...that's ok. Guess you had to be there!) There were games, Rush Guitar Hero and Rush Karaoke!
Wednesday was a fun day of music, videos, games and the Charity Auction! This year, we raised over $2500 for the Toronto Daily Bread Food Bank! Not too bad for a smaller and shorter convention! Later in the afternoon, we took a Spindrift Boat Cruise that took us to Molson Amphitheater for the concert! The concert was outstanding, as usual! And, a bunch of us had these little inflatable monkeys that we all brought out and held up during the song, "The Main Monkey Business"! The guys saw the monkeys and got a good laugh out of them! We loved it!!
Thursday was an unofficial RushCon day. Todd and I went to Casa Loma for a visit. What a cool place! I would love to visit there again! From there, we went to the CN Tower. All in all, a fun and busy few days in Toronto!

---
RushCon 9, Elevate From The Norm, July 24-26, 2009 was a great weekend! Started off Thursday night with the overtaking of McVeigh's on Church Street! I think there was ONE waitress working that night and we gave her quite a workout! Good food, great company and a fun night!
Our normal In The Mood Mixer was different this year! We had a BBQ out on Centre Island! We called it the Open Sea & City Lights Bonfire BBQ Welcome Party! From the boat ride over, to the storm that rolled in right after we arrived, the occasional beer fail and all the fun, games, music and food, it was a great night!
Saturday was a fantastic day! We had some fun games and videos in the morning! The afternoon spotlight was our guest speaker, Michael Mosbach! Michael has been director of Rush's security for 11 years, and through four extensive tours. Since 2002, Michael has been Neil Peart's riding partner logging thousands of miles and adventures across the U.S., Canada, South America, and Europe during Rush tours. We all enjoyed some fantastic stories and photos courtesy of Michael!
Saturday evening was capped off with Rush Karaoke and the winner getting to sing a song with the tribute band! The winner, Lisa Fields, was just awesome! She sang Vital Signs with the tribute band, Limelight, and she did a fantastic job! Speaking of Limelight, they were outstanding, as usual! The concert was held at a different venue, C'est What?, and even though it was a bit smaller than we expected, it was a nice place!
Sunday was a BUSY day for me since the charity auction was that afternoon. We started the day with an Anthem tour, then the auction preview. Our guest speaker on Sunday was Martin Popoff! Martin has written 27 books on hard rock, heavy metal and classic rock, including his book about Rush, "Contents Under Pressure: 30 Years Of Rush At Home & Away". He has also been working on the upcoming RUSH documentary in addition to his authoring duties. We all enjoyed his talk, and hearing about the fun stories he had about Rush!
The auction was exciting, as usual, and was capped off by our own Bev "Rush Girl" winning a personalized autographed copy of one of Neil's books! Along with her $1500 donation (wow!), we raised over $4500 for the Toronto Daily Bread Food Bank! This brought our total donations to the food bank to $50,000 over the years! Fantastic! Thank you all for the wonderful donations and auction bids! As the Auction Coordinator, I am humbled and SO thankful for every dollar donated!
After the auction, we had a Moving Pictures matinee followed by the Farewell Party Pub Crawl. The pub crawl ended at the Orbit Room, and we had a lot of fun hanging out together and enjoyed music by Stiffler's Mom that night! All in all a fantastic weekend!

---

Back to Lerxstland